Leave a comment
October 13, 2013 by locu5amoenu5
See on Scoop.it – Perma-Tech Inspirations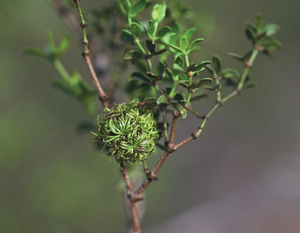 http://www.nature.com/nature/journal/v494/n7436/full/494151c.html
Species interactions such as competition and predation spur on diversification — as can symbiotic relationships, a study of plant-invading insects has found.
Many species of a family of insects known as gall midges (Cecidomyiidae) rely on fungi to help them break down plant tissues; in return, the female gall midges deposit the fungal spores along with their eggs when they move from plant to plant. In a survey of the literature, Jeffrey Joy at Simon Fraser University in Burnaby, British Columbia, Canada, found that gall midges that are associated with fungi tend to use a wider variety of host plants (pictured) compared with those with no association. Moreover, his analysis of gall-midge lineages revealed that symbiotic insect species are more than 17 times as diverse as non-symbiotic ones.
Forming a relationship with plant-digesting fungi could allow for greater evolutionary diversity in other insect species by providing them with a greater number of potential hosts, Joy suggests.
Proc. R. Soc. B http://dx.doi.org/10.1098/rspb.2012.2820
See on www.nature.com