Leave a comment
May 5, 2014 by locu5amoenu5
See on Scoop.it – Perma-Tech Inspirations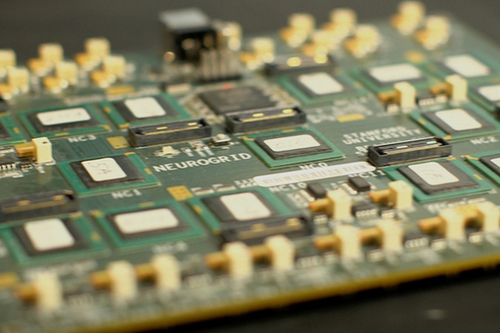 (Phys.org) —Stanford scientists have developed faster, more energy-efficient microchips based on the human brain – 9,000 times faster and using significantly less power than a typical PC. This offers greater possibilities for advances in robotics and a new way of understanding the brain. For instance, a chip as fast and efficient as the human brain could drive prosthetic limbs with the speed and complexity of our own actions.
Stanford scientists have developed a new circuit board modeled on the human brain, possibly opening up new frontiers in robotics and computing.
For all their sophistication, computers pale in comparison to the brain. The modest cortex of the mouse, for instance, operates 9,000 times faster than a personal computer simulation of its functions.
Not only is the PC slower, it takes 40,000 times more power to run, writes Kwabena Boahen, associate professor of bioengineering at Stanford, in an article for the Proceedings of the IEEE.
Read more at: http://phys.org/news/2014-04-scientists-circuit-board-human-brain.html#jCp
See on phys.org